B-honey is a pure Greek family business of the Family Ioannis Deligiannis (Member of EL / 54-607), which keeps hundreds of beehives and respects the tradition of organic beekeeping combined with the know-how and constant information inflow of the specific field. As a result, it offers genuine Greek virgin bee products of quality A.
B-honey is installed in Modi, the "village of flowers", in Municipality of Volvi. This village lies a few kilometers outside Thessaloniki, drowned in flowers, as nursery gardens that grow outdoor plants are everywhere in the area inside thousands of acres of land, most of anywhere else in Greece, planted with all kinds of trees and plants, rightly awarding the nickname "village of flowers". On the underside is the lake Volvi blessed by the wet element and the fertile land that surrounds it.
The company has a privately-owned workshop equipped with state-of-the-art equipment (electric carriages for transporting beehives, honey-extractor-centrifuge, wax processing machines, honey-wax separating press, stainless steel storage tanks, etc.). All our products are lawfully packaged and standardized in accordance with all applicable laws, while emphasizing the application of standard technologies in the areas of hygiene, new methods of farming, adaptation of the theory to the case, disinfection of the surrounding environment. Respecting the environment, we are in collaboration with the Aristotle University of Thessaloniki (AUTH), using specialized agronomists and a number of selected collaborators with purpose to create food products of stable high value and standard quality.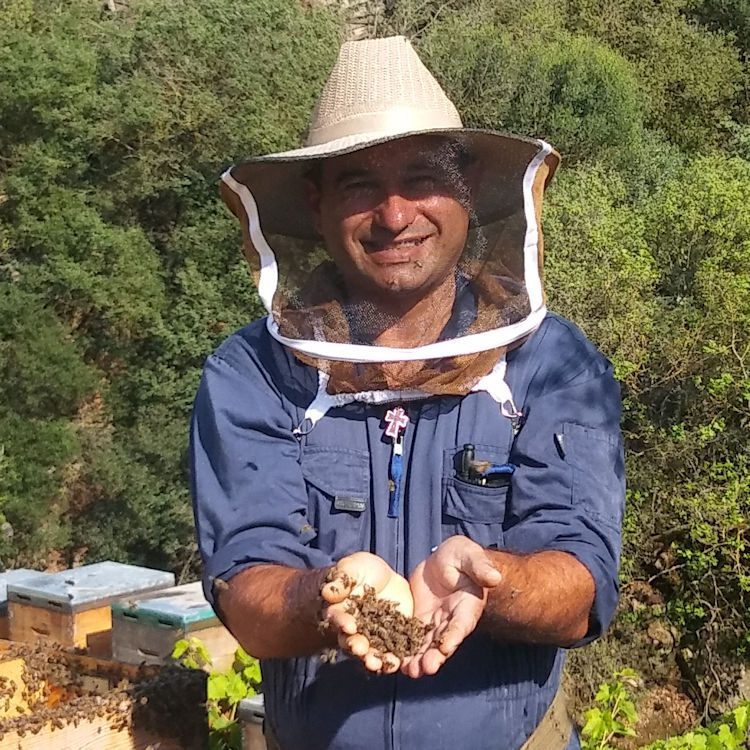 "About 10 years ago amid the crisis, the hobby became a profession. I attended a number of seminars in order to be able to produce all bee products such as honey, pollen, royal jelly, propolis, beeswax ointment... Many people ask me if this profession wants patience. No patience needed, because sooner or later you become indignant, therefore love is needed and I give love and enjoy every moment of my work..."